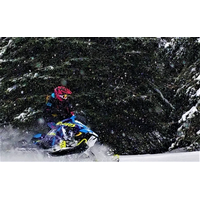 Trees are a pretty important part of our human existence. With much talk about carbon footprints and such, trees have become one of life's most valuable resources. Trees are vital. As the biggest plants on the planet they give us oxygen, store carbon, stabilize the soil and lend food and habitat to wildlife. They also provide us with the materials needed for tools and shelter. Although cerebrally we understand trees are incredibly important, many a snowmobiler has a love/hate relationship with trees they encounter while riding. Here are a few reasons why.
Early Season Landmines- When downed trees and stumps are covered by fresh snowfall, enough snowfall is needed to protect snowmobilers from impact. Early season riding frequently lacks a solid base to protect riders from what lies beneath that fresh blanket of snow costing many eager beavers a significant amount of dollars for repairs. Deadfall, and stumps pose a significant threat to A-arms and other snowmobile parts and could even do some damage to human body parts. It's a good idea to let a solid base develop before venturing into a stump filled area especially if you want to lay down a deep carve.
Whipping Willows- These sneaky suckers can be relentless, whipping riders in the face, across the knuckles and stopping you dead in your tracks as they seem to reach out and engage your break lever. Until enough snowfall bends these willows down, they will impede navigation on the backcountry trails they shoulder. This is another reason why it is important to #supporthesport with your membership and volunteer efforts, for most snowmobile clubs have regular trail brushing programs executed in the summer months, creating a free-flowing trail system when the snow falls.
The Slippery Sucker- We have all been there a time or two. You are having a great time navigating technical terrain in dense trees and see an alley way that offers a clear way to top out. Your momentum is perfect, and with confidence you anticipate cresting the hill when all of a sudden traction is lost, and you find yourself spinning out on something unexpected. Yup it is the slippery sucker. That barkless pine deadfall log under the snow that has just taken your momentum away causing you to spin out resulting in an epic stuck. This will happen to anyone and everyone who ventures into the trees, so try not to take it personally just pick yourself up and try again.
The Stabby Trees- It's amazing how the same species of trees can be so different in various part of British Columbia. Coniferous trees in the Kootenays seem to have more flex compared to those in areas such as Valemount, where they are much more rigid and pack a pretty solid punch to shoulders and thighs when encountered. After a fire coniferous tree branches also stiffen up, so when riding burns it is important to understand how strong and sharp these branches truly are. Nothing throws shade on a great day like being skewered by a branch. Just be aware that all that is green is not flexible in the BC backcountry.
The Sneaky little tree: You have stopped for a break, perhaps to take in the stellar beauty surrounding you or to eat. You decide to walk over to where your friends have gathered, but suddenly you find yourself armpit deep in snow. Little sneaky conifers, beneath the surface can in fact, produce deep treewells that give you zero notice of their existence. Normally more of an inconvenience than a threat of danger when they are small, these sneaky trees can fill your boots and bibs with snow, and temporarily impede your movement.
Treewells can be very dangerous near larger trees and you should never ride close to large trees. They often have hidden treewells around them that create a high risk for snow immersion suffocation.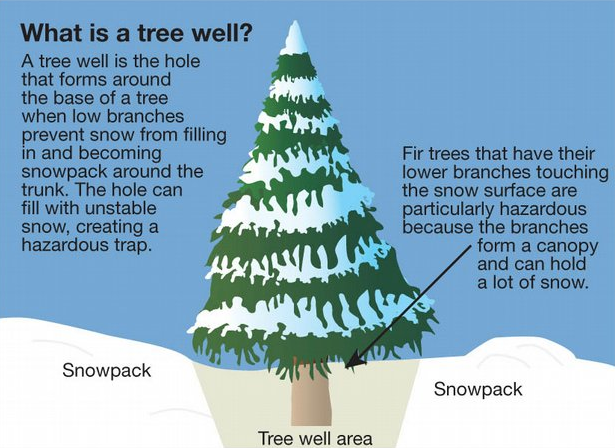 No matter how you look at it, snowmobilers will always have a sort of love hate relationship with trees. We will love the deep untouched powder found in the trees while other areas are experiencing a packed out drought but will curse their very existence when we find ourselves in need of a new A-arm or bumper.
---