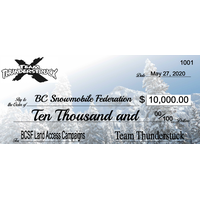 The BC Snowmobile Federation (BCSF) would like to thank Team Thunderstruck and the Revelstoke Snowmobile Club for their amazing donation of $10,000.00 from their annual Team Thunderstruck Fundraiser held in Revelstoke on November 30, 2019. We were waiting to try to get together for a photo opportunity but due to COVID-19 that has not happened and we could not wait any longer to share the news! The BCSF, as a not for profit organization, knows the work it takes to host an event like this and the number of supporters it took to generate such a large donation. We are very grateful to be the recipient of this year's donation and would like to thank the organizers, the businesses that donated items, and the people that bid on them.
These funds will be used by the BC Snowmobile Federation for its Land Access Campaigns to help the Federation meet its mandate to provide strong leadership and support to member clubs to establish, maintain and protect quality opportunities for organized snowmobiling in British Columbia and to promote the safe and environmentally responsible use of these opportunities.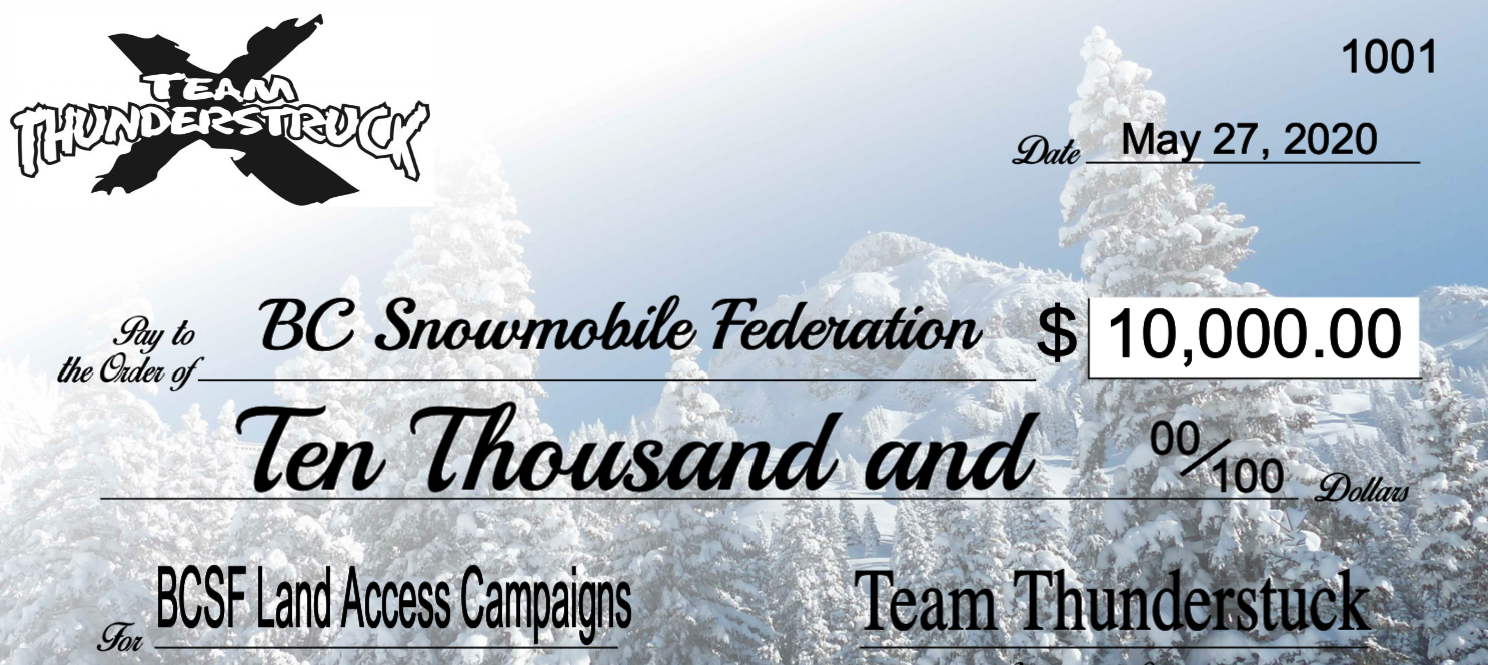 A bit of history on the Thunderstruck Fundraiser and the Revelstoke Snowmobile Club
Team Thunderstruck enjoys what all sledders enjoy in BC the enormous amounts of powder combined with accessibility to the amazing terrain that blankets the region. For that reason, some of the movie segments are shot in BC and many are filmed in the Revelstoke area during the winter season. Therefore it is fitting that Team Thunderstruck wants to give back to the organizations that support snowmobiling in BC.
The Revelstoke Snowmobile Club enters into its 52nd year of operations and remains the largest organized Snowmobile club in the Province. Its members are passionate about all the issues facing long term sustainability and of course riders safety. For this reason, we are proud to combine forces for this annual event with Team Thunderstruck, and in doing so, have helped raise funds for the BC Snowmobile Federation's Land Access Campaigns.
This event would not be possible without the amazing support of sponsors, volunteers, Team Thunderstruck and the Revelstoke Snowmobile Club. The organizers would like to recognize each and every person who attended and thank their many sponsors who donated items that were auctioned off throughout the evening. All participants thoroughly enjoyed themselves as did the organizers. We certainly look forward to doing it again for many years to come. A big shout out to the evening crew Randy Swenson, Jeff (Rozzy) Rosner, Brock Hoyer, Clinton Biggs, Brett Coupal, Kathy Burke, Kathy Berlingette, and Teena Rumak!
As always, the Thunderstruck Fundraiser evening is a memorial to the three Boulder Mountain Avalanche victims Shay, Curtis and Chris as well as young 16 year old Brandon Oulette who was very close to our network of passionate riders.
A big thank you to all the supporters of this event!
---