As many of you probably have seen on Facebook the BCSF hosted a group ride on January 31 from Kamloops to Barkerville and back to celebrate 50 years of representing organized Snowmobiling in BC.
So while you may have read about the ride, viewed some of the amazing professional photographs taken by Geoff Moore , or are looking forward to the Episode of Snowmobiler TV that will be airing soon on CKPG Sunday 8:30am or http://www.snowmobilertv.com/index.php
Here is little insight from my experience on this adventure…
I was driving support vehicle with my friend and co-pilot Kathy Burke. It seemed like for every km the group rode we drove 2. For those that do not know me I drive a Kia Soul so heading out on the road with a F-350 with a deck and 25' enclosed trailer was a bit of an upgrade. I can say that there was only one sign casualty on the trip and what I learned was that if you just miss your mirror you will hit the trailer! I also could have filmed an episode of Canada's Worst Driver in Green Lakes trying to back the rig around on a sheet of ice. But all in all the trip was a success in big part to Jamie from Atlas Drilling in Kamloops. He loaned us the truck for the week and ensured that "Bessie" (yes we named her) had a tune up, fresh rubber, and was mechanically sound. When I pulled up with the Kia to get the truck and trailer I am sure he must have had some doubt.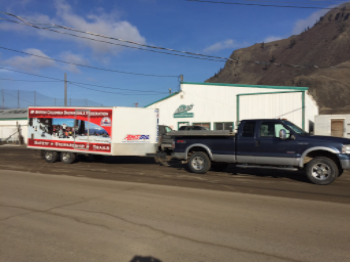 As we drove from one destination to the next on the hunt for a part, picking up snacks for the group, stopping for photo ops, stopping for diesel and assigning rooms we were amazed by the reception we received. We needed an extended hitch installed in 100 Mile…no problem. We pulled into Meridian RV and the President of the Mica Mountain Riders Association had me fixed up, installed, new wiring, new chains, sleds tied down and out the door with a smile in less than an hour. Pull into the Williams Lake Big O Tire with a minor issue and find out that the manager and I have several mutual friends in Burns Lake. Again, issue fixed and out the door in less than an hour.
Day five and six the group rode around the community of Wells and the support truck was parked. So I got to finally ride a snowmobile. On the first day Kathy and I went out on a two up sled to complete the sugar creek loop with a group. I have never driven a two up sled and had a pretty steep learning curve which resulted in Kathy and I earning the "that guy" award (more on this later) for that evening. It takes a special skill to dump your passenger off headfirst into a snow hole and I had to pull her out by her boots. If we could have stopped laughing then no-one would ever have known. We honestly tried to stop laughing but hours later we would look at each other and just start laughing again so we wore our pins proudly.
The second day I took out a new Polaris 800 provided to me by Spectre out of Williams Lake. I went with our guides Guy and Mike (Squirrel) from the Quesnel Snowmobile Club. When they asked what I would like to ride for the day I said that my favorite is riding is meadows and mellow terrain. With Avalanche Conditions high we were looking for safe options. Our guide Guy said no problem we will ride Break Neck ridge. I was a little nervous because that is not a name that I was thinking would associate with the type of riding I like to enjoy. But he nailed it and we had an amazing day with fresh snow and never-ending meadows. It was a day I will remember for some time and our guides did an excellent job at group management.
While in Wells we also got to eat fabulous food cooked and organized by the Wells Snowmobile Club, experience a dinner theater, and listen to a great local band at the local Legion. Our hosts at the Hubs Mote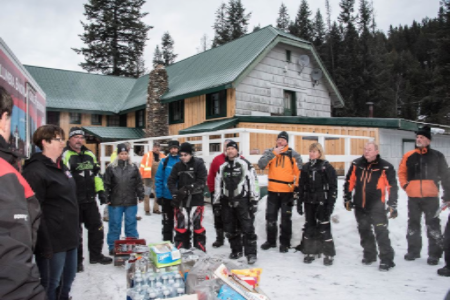 l were extremely accommodating with great rooms, fresh cookies each day, supply runs, laundry (thanks Dianne), pizza delivery, and anything else we needed. I have stayed here before and will definitely stay here again. Dianne and Harrold are both key members of the local club and active volunteers as I witnessed Harold going out to fix the groomer at 6pm.
So what does 8 days hanging with the same people each night look like? To me it looked like family. Sitting down as a group for dinner, sharing stories from the day, and yes partying creates a bond. There was no arguing unless of course it was about which sled brand was the best and who was going to be nominated for the "That Guy" award. This was a very prestigious award given out by the Kamloops Snowmobile Association by nomination and vote each day to the person that did some exceptional riding skill that could include "the superman", "the scorpion", a tree or rock, best stuck or just plain rock star of the day. It was coveted.
From what I saw everyone who participated in the ride had a great time…everyday! Every morning they headed out with a smile and every night they pulled into the lot they were still smiling. My biggest regret was not riding the whole thing with them but maybe next year! There is a rumour of 7 Mountains in 7 Days for 2017…what do you think?