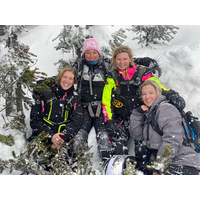 Riding with your significant other can be a great experience but when the relationship ends there is always one question on both individuals' minds. Who gets to keep the sled crew? Normally men do not have a problem finding a new crew, and more often than not, they stay with the original group. But at the BCSF we often get requests for help connecting to new ride groups from women. This is because for the woman it can be a lot more complicated. When seeking out her new ride crew she runs into wives that do not want their husbands riding with a newly single woman or having to prove to she can hold her own and won't be a downer on their day. This makes it very hard for the woman to find a new ride crew which can often can result in her giving up her passion for snowmobiling and looking out the window with tears in her eyes as her snowmobile goes to its new home.
We want all women to know that there are options though and want to encourage all women who enjoy snowmobiling to hold on to their passion for the sport! So here's a few ideas we regularly share:
Join a Club- Your local snowmobile club is a great place to start looking for a new crew. Like minded safety conscious riders are abundant in the many snowmobile clubs across the province. They support the sport and will support a lone rider find a new crew.
Clubs and online membership purchase
Ladies Rides- There are many women specific ladies rides that happen throughout the province and believe it or not many single women participate. You can build a new crew that is all women if you choose. No boys allowed can be incredibly fun, without the pressure of feeling like "that girl".
Ladies Clinics- This is another great option for meeting like minded she-shredders. You will gain skills, make great friends who quite often end up feeling like true sled sisters. Your confidence and skill set will soar when you attend an accredited ladies clinic. Ask around there is often a lady in your club that can share some tips with you or even better check out the pros:
She Shreds adventures with Julie-Anne Chapman
Mountain Labs and Camps with Stephanie Schwartz
Elk Valley Snow Shepherds with Nicole Matei
La Nina Sled Camp with Nadine Overwater
Social media female specific snowmobiling pages- This is a fantastic way to meet new people and perhaps even plan a few sled-cations! Facebook especially has an abundance of groups that are active and welcoming. Cycle Works West Women Shredders, Women's Snowmobile Focus Group, Throttle Chicks, or the Braab Babes are just a few of the options available.
Share your crew- Some splits can be amicable. If you can negotiate the terms of custody for sharing of your sled peeps that is a bonus. You'll already have the trust and familiarity down pat, so all you need to think about is the braap.
Have fun and shred on ladies. You are an important part of the sport of snowmobiling and we want you to see you out on the snow!
---