Nothing brings us greater joy than to share our amazing backcountry with others from around the world. There are a few things to know before you head out on your snowmobile or snowbike adventure. Preparation truly is key.
Avalanche Awareness
Many parts of British Columbia have the potential for Avalanche hazards. It is important to prepare by ensuring you have the appropriate equipment and training. Avalanche Skills Training Level 1 is recommended as a minimum level of education for riding in the mountains of BC. Many educators are circulating through the prairie provinces and states offering classroom portions of AST 1 and avalanche awareness seminars with several dealerships hosting free events. This is a great way to prepare for riding in BC while meeting other like-minded riders. To help familiarize yourself with avalanche safety Avalanche Canada offers an online tutorial to walk you through the basics.
Safety Equipment
The basic necessities for backcountry riding in BC are an avalanche transceiver, shovel and probe worn on your person. Your backpack will have what you need to survive overnight, including hydration, food rations, extra gloves, a saw, and multiple ways to start a fire. Here's an excellent article from our friends at Zacs Tracs What to pack in your snowmobile backpack
Equipment can be rented from several locations the province, and hiring a guide is always a great idea when traveling in unfamiliar terrain. Certified guides will keep you safe and sound, and probably take you into some secret honey holes where you'll find fresh untouched white gold.
Plan a Successful Adventure
Trip Planning is also a key component to adventuring in BC. Avalanche Canada is a wonderful resource for not only checking the avalanche forecast before you head out for the day, it also has numerous resources including an interactive trip planning app to guide you through the process. It's imperative that you notify someone not in your riding group of your plans, when to expect you home, the area you are riding, and who is in your party. Should you be delayed it will give Search and Rescue volunteers a better chance of finding you in a timely manner. In addition to checking the avalanche forecast, check the weather forecast which will also provide vital information for planning your ride. The Never Lost Trails app is a wonderful resource for planning your trip and backcountry navigation. This app will turn your cellular device into a trail navigation tool even where cell service is unavailable.
What to Wear
Layering is incredibly important, for certain parts of our province like the Kootenays, Vancouver Island, Vancouver Coast and Mountains, and the Thompson Okanagan areas can have mild temperatures year-round, while our northern areas can experience colder temperatures with beautiful blower powder to enjoy. Cotton is a huge no-no, for it will absorb sweat like a sponge leaving you cold and damp for your day's adventure. Here is a great article on layering. Dressed for Success
Crossing the Border into Canada
For those of you visiting from out of country it's important to have your passport, and proper documentation for your truck, snowmobile and trailer. You'll need snowmobile registration, trailer registration showing proof of ownership. Keep all the documents together in your vehicle making it easy to access upon border crossing. If you have any criminal history including DUI's, you'll need a pardon before entering the province. Don't even try to sneak on through, for you'll be red flagged and denied entry if the officers find you untruthful. Here is a great resource with more information on crossing the border into Canada ezbordercrossing.com
Snowmobile Registration and Insurance
While BC is known as the wild west we do have some laws that everyone must abide. You must wear a helmet while operating your snowmobile. There are requirements for third party liability insurance in some cases and your snowmobile must be registered in your home province or state. If you cannot register at home than you must be able to provide proof of ownership of your snowmobile. Finally, you must have picture ID on you at all times while snowmobiling. More information can be found in this FAQ Document.
Wildlife of British Columbia
We have an abundance of wildlife in our backcountry. It's important to not only enjoy the beauty of these animals, it's also equally as important to stay safe in their vicinity. Here is an article to help you and our wildlife stay safe during your adventures. Wild Adventures. It is your responsibility to what areas are closed to snowmobiling in BC. Many parks do not allow snowmobiling and we do have several areas closed to protect Mountain Caribou Habitat. Please research the area or reach out to the local snowmobile club for background if you are not using a guide.
Support Organized Snowmobiling
Support the sport and one of our hard working clubs with either your membership purchase, or a trail pass. These British Columbia Snowmobile Federation Clubs (BCSF) are the backbone of organized snowmobiling in BC. They groom and maintain trail systems and cabins, and they are the driving force to prevent land closures. Your dollars are vital for their success. Online memberships are available on the BCSF website. www.bcsf.org/clubs
Here are some additional links to help you plan your British Columbia Adventure! Thank you for staying and playing in BC.
The Many Faces of Snowmobiling in BC
Snowmobile Guide to the Columbia and Rocky Mountains of British Columbia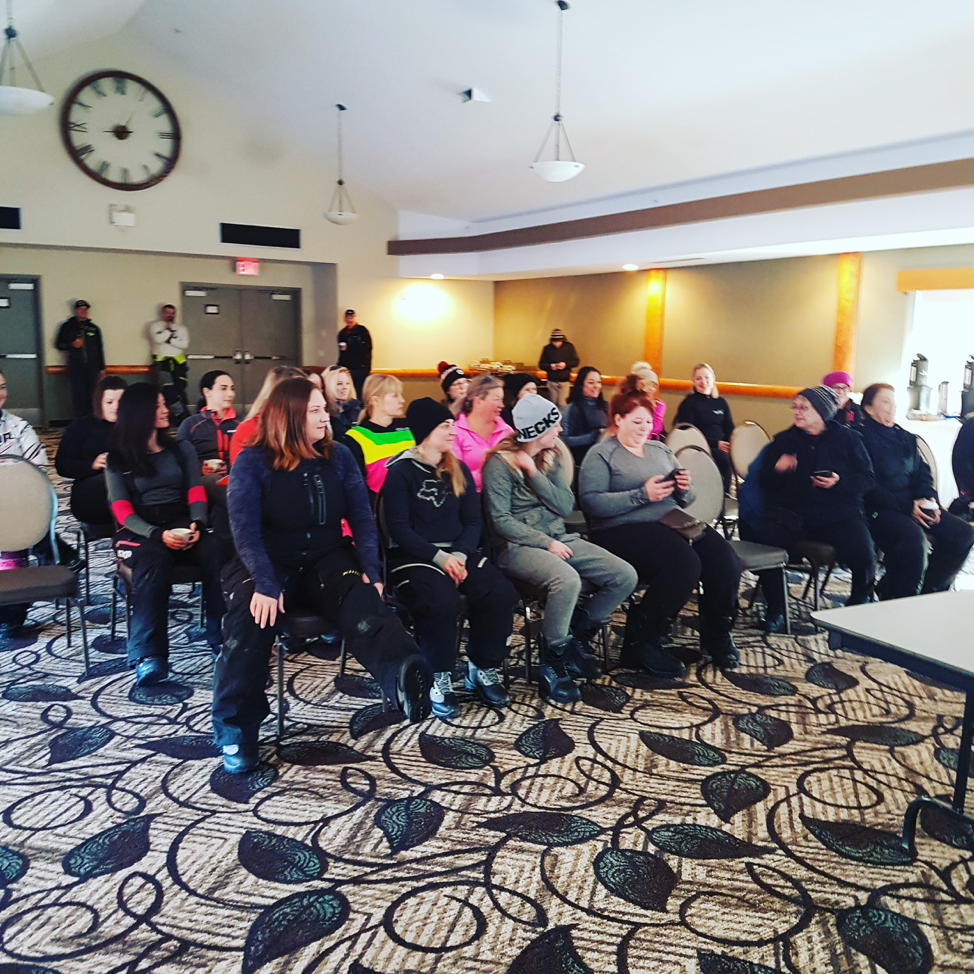 Riders in their trip planning meeting before heading out for a ride in Valemount, BC
---