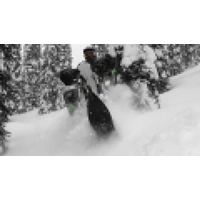 Welcome to the sport Snow Bikers! If you're brand new to winter adventure, there are a few things to consider before heading out into the backcountry.
Winter is a different beast than mild weather dirt adventures. Consequences are much higher when dealing with sub zero temperatures and terrain hazards such as avalanches. While most clubs are called snowmobile clubs, you are now a part of motorized winter recreation, and face the same land access challenges, safety concerns and need for representation in the eyes of government your snow machining friends continually face.
Avalanche Training: Unlike Dirt riding, your snowbike will take you into terrain that could have potential for avalanches. The first thing on your list of "to do's" should be an Avalanche Skills Training Level One (AST1) Class. There are a variety of skilled providers out there who offer 2 sometimes three day classes consisting of classroom and field time. Get the training and get the gear. This is where the saying "know before you go" comes into play. Avalanche Canada provides a wealth of information and resources to help you along the way. Before every ride it is imperative to check not only the avalanche forecast, but also the weather forecast so you can make solid and safe plans for your day's adventure.
Gear: Transceiver (sometimes referred to as a beacon) Shovel and probe are the bare minimum must haves when riding in mountainous backcountry and must be worn on your person at all times. Don't cheap out on your safety gear, for it could be your life, or a friend or family member's life depending upon it. Old school analogue transceivers are often put up for sale on your local buy/sell page, or ebay. They are past their prime and could potentially hamper a rescue, as the technology is outdated and obsolete. Invest in the best equipment, and if you do buy second hand, purchase your life saving gear from a reputable source or individual.
Terrain Choices: As we've mentioned, an AST 1 is a must have if you are riding in the BC backcountry, also keep in mind how your snowbike differs from a snowmobile as it relates to terrain choices. Snowbikes are incredibly agile, often able to access terrain choices that are not easily accessible by snowmobile. This is great if you are looking for hours of fun in fresh powder, but not so great if you are in need of a helping hand and your crew on sleds can not get to you. Keep that in mind when choosing your terrain. You will horizontally navigate steep terrain across open slopes rather than going straight up in some situations. In the wrong conditions, this will trigger an avalanche, which takes us back to our first point. Avalanche Training, for in your AST training they will address terrain choices and ways to prevent exposure to avalanche dangers.
Support your sport: Your membership will help preserve and protect riding areas and help fund club and provincial federation initiatives that help secure a solid foundation for our sport in British Columbia. Snowmobilers and yes you, snowbikers help to contribute over 299 million dollars to the British Columbia economy. Be a part of the solution and join your local snowmobile club. Let's face it. You really do enjoy accessing the backcountry on a groomed trail, rather than a rodeo ride on a whooped out trail. Get your membership.
To find a full list of Snowmobile specific Instructors please go to the Avalanche Canada website.
The BC Snowmobile Federation preferred providers of sled specific training are:
---