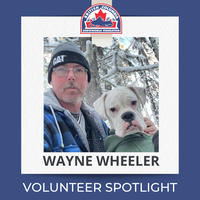 Located at the original mile zero of the Alaska Highway (now mile 300), is the BC Snowmobile Federation's northern-most snowmobile club in the province! The Fort Nelson Snowmobile Club features over 100km of groomed loop trails and three impressive warming shelters thanks to the diligent work of volunteers like Club President Wayne Wheeler in recent years.
This part of BC is known as the Serengeti of the North, with the town of Fort Nelson serving as the gateway to the Muskwa-Kechika; one of the last tracts of true wilderness south of the 60th parallel. The outdoors are a way of life here. The club and its volunteers work hard to contribute exceptional recreation opportunities to the community and visitors - offering staging areas, events, and well-signed trails leading right from town into the surrounding family-friendly Polaris, Evie, and Parker Lake riding areas.
I sat down with Wayne to tell us a little more about what it's like operating a successful community snowmobile club in this remote location of BC.
Q: Wayne, can you tell us how you became involved with snowmobiling in Fort Nelson?
A: I rode skidoo as a kid, but mostly with friends as a passenger. I do remember riding my grandpas old bubble nose in his yard doing laps. I got involved with the club 10 years ago when the past president was stepping down. He could not run the club anymore due to his business and asked if I would take it over. I kept going this year because more people have gotten involved. To see kids out riding and to hear around town about how beautiful our trails and shelters are. We went from 8 members 10yrs ago to 140 plus this year so that gave me a challenge to break the record for the previous year. Without great teamwork and the push from family and great friends that's what keep me going and a great club. We have all done this together.
Q: What is a typical day like for you as the Club President of a small northern BC snowmobile club?
A: As president I run all meetings check and reply to emails daily. I post all of our events on the club Facebook page and deal with any club issues. Keep in contact with Recreation Sites and Trails BC and the Northern Rockies Regional Municipality and the government for our highway crossings. Always doing club stuff in winter and summer. I love running our snow cats and my favourite event is the midnight poker run. Riding in March at night is also fun on the trails beside a fire looking up at the northern lights.
(Fort Nelson is home to the Northern Lights Festival in March each year. You can check out a great video HERE.)
Q: What kind of volunteer efforts are needed at the club right now and how can people get involved?
A: We need groomer operators and more help with events and trail cleaning. We also need help keeping rest areas stocked with dry firewood and the shelters. You can reach out to the club on our Facebook page or website.
Thank you Wayne and Fort Nelson Snowmobile Club volunteers for everything you do! You can discover more about sledding in Northern BC HERE.
---