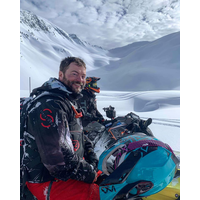 Often, we are contacted at the BCSF by riders looking for trail information or where to stage. What we rarely get contacted for is to recommend a guide for their group. We believe that the best way to experience unfamiliar terrain is to attend an organized club event or to hire a professional guide. This is because mountain riding in BC almost always occurs in the open backcountry and not on a clearly marked trail. This makes it easy for a group to get lost in unfamiliar terrain or to expose themselves to risks they may not be aware of. It really brings to light the importance of hiring a professional guide when riding new areas and some of those reasons to hire a guide may surprise you!
Here are ten great reasons to hire a professional guide:
A ride day customized for you: You'll be guided into terrain that matches your personal skillset. Upon orientation with your guide, you'll be asked to fill out several forms including one that asks questions pertaining to your skill level. Your guide will take you into terrain that provides ample fun while avoiding areas that could be too complex for your skillset. It's important to be honest and humble when evaluating your skill level, to ensure safety and enjoyment.
Find terrain that matches your snowmobile: Your guide will also want to know what machine you will be riding on your adventure to make sure both you and your machine are capable of navigating specific terrain in the area. This is an important factor to consider, for trail-specific snowmobiles and mountain-specific snowmobiles differ greatly in set up and the terrain they are meant to navigate. If your machine isn't capable of performing in the mountains safely and effectively, your guide may be able to provide a rental or point you in the right sled-rental direction. This is especially relevant for our friends who live in the prairies.
Local knowledge brings the goods: Secret stashes of snow, and treasured honey holes in particular. Your guide will have the inside scoop and can take you to untouched fresh snow, even when there are drought-like conditions.
Invest in your ride skills: You should consider that hiring a professional guide is a good investment because while out riding with them you will learn new skills and knowledge that can be applied everywhere you ride. Let's face it, this is your guide's day job and they will most certainly be advanced in skillset, so don't hesitate to ask for tips and pointers.
Spend more time riding: You'll spend less time trying to find the areas to ride, and more time riding! This includes staging areas, because you know that if you're new to an area the staging areas may not always be easily found.
Ability to change the plan: If you're thirst for adventure changes mid-ride, your guide can adapt, and find you those tight trees, or mellow meadows quicker and safer than blindly trying to find additional snow to use up.
Your personal safety: Your guide knows potential hazards that have caused other unsuspecting riders to become lost or stranded, and will not only keep you safe, but make you aware of these hazards. This deep insight into the area's terrain management will help keep you safe should there be a time you ride the zone without a guide. The guide you hire today could make all the difference for the trips you take in the future.
Ability to handle the unexpected: Your guide is highly trained and certified professional prepared for many situations. Your snowmobile guide should have in-depth wilderness first aid, avalanche skills training, and hands-on machine operation training to facilitate your safe and fulfilling adventure. Your guide should also be a legally tenured professional that ensures they have a safety/rescue plan in place and will have appropriate insurance for their operations. With the abundance of self-proclaimed guides out there lacking in appropriate credentials do not be afraid to ask to see your guides credentials and insurance.
Peace of mind for you family: The peace of mind not only for the riders, but family members waiting at home is another great reason to hire a guide. No one likes to worry, and with any adventure sport, risks are ever-present. Hiring a guide will help to mitigate these risks allowing you to come home safe and sound at the end of the day which makes everyone happy.
Affordable: Hiring a guide is affordable when split between your ride crew. Splitting the cost of a guide between four or five riders makes hiring a guide very affordable.
We cannot stress enough that it is important to do your research when hiring a guide. There are some out there without certification, training, and the skills needed to guide a group safely and responsibly. Ask for credentials from those you are looking at hiring. If there is any hesitation to produce proof of training and certification, walk the other way, quickly.
For more information on hiring a guide you can visit the British Columbia Commercial Snowmobile Operators Association (BCCSOA)
---