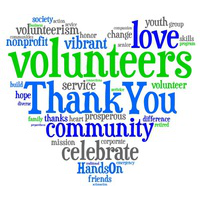 Volunteer burn out is a very real issue that plagues many not for profit organizations including snowmobile clubs. STP. The "same ten people" (probably closer to 5 people) seem to perpetually do all of the work, then they burn out, and with the shallow pool of volunteers the sport of snowmobiling has, the future can feel a little bleak.
I am too busy. I work. I have no time for volunteering. I live too far away from my club to volunteer. I have kids. The list of excuses to not volunteer for your snowmobile club is ridiculously long. Here's a news flash. We are ALL busy, we ALL have lives, and we ALL need to do our part to ensure the survival of motorized winter recreation in BC.
The power of one. One person, one hour, one day. Every effort matters for the moment someone reaches out to help, it's one less task for our already burnt out volunteer force to tackle. Your time will matter and make a difference. To be clear it's not all about manning the groomer or chopping firewood, for there are multiple ways to volunteer and make a difference for your club, that can accommodate your work schedule and family obligations.
Paperwork and Grant sourcing and writing. While it may not be glamourous, the administrative duties of a club are vital. If you're someone with a background in administration, your club needs your help!
Website and social media updates. Communication is key, and again, if you have the gift of being somewhat computer savvy you are needed! In the peace and quiet of your own home you can make a tremendous difference promoting your club, events, and membership stimulus.
Event Planning. Creativity and fresh minds are always a great addition to any club, especially when planning new events. Much of this can be done via telephone calls and emails so even the busiest of riders can in fact make the time to share their creativity and inspiration.
Prizes and Donation support. If you are someone plugged into your community or the industry you will provide many of the connections needed to gather prizes for events and fundraisers. Every little bit helps!
Public relations. Who doesn't like a good parade? They are fun, and a great way to shine a spotlight on your local club. Do you have a media connection? Reach out to your media resources to share all of the positive things your club brings to the community.
Specialized skills. Sometimes the smallest insight can make a difference long term for a snowmobile club's viability. If you are a professional that has specialized skills to lend, no one is asking you to "work for free" but rather support your sport by sharing your knowledge. If by some grace of God, you are a Lawyer or Biologist you will be valued more than you realize.
Encourage Membership purchases. You're out in the backcountry and you realize some of your riding companions do not have a membership or unaware of how important their membership is to the club and the sport of snowmobiling, speak up and encourage their involvement.
Let's get those memberships up, and increase our volunteer force, people! We truly are one...for under the umbrella of the BCSF we can not only climb mountains, but move them together.
---