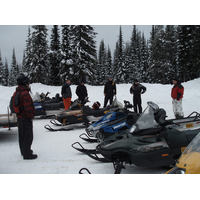 With much focus on avalanche awareness and training, which of course is a must, some may be unaware of other factors to consider while riding in the British Columbia backcountry. We want you and your entire family or ride crew to stay safe this winter, so we've compiled a list of suggestions that will help to ensure that you and your entire crew have an epic adventure safely in the backcountry
Speed: While navigating groomed trails some tend to want to ride like "Ricky Bobby", holding it wide open with very little concern of others. Yes, the trails are smooth and may invite excess speed, but remember, you are not the only individual using these trails. Perhaps by holding the throttle to the bar you can save ten minutes on your trail ride in, but realistically riding at a responsible speed is worth it, especially if it means preventing injury or worse. Many enthusiasts, including youth will be riding, so please slow down and ride responsibly.
Tethers: A tether is a valuable accessory for your snowmobile, that will instantly shut the motor off when it is pulled. Only one manufacturer (Skidoo) provides a tether from factory but there are a variety of after market models to choose from for any ride. You get what you pay for when it comes to tethers, so do your research because they range anywhere from forty dollars to one hundred twenty dollars and are worth every penny. If you are not a super handy person, have it professionally installed so that you do not create electrical gremlins for yourself later. The other thing with tethers is just installing one is not enough...you have to wear it. So be sure you connect your tether every time before you start your snowmobile to prevent your beautiful ride from taking a "ghost" ride without you.
Ice: Frozen lakes and rivers can create hazards, even in mid season. There have been reports of riders busting through the ice even in the month of February when the ice still has not set up sufficiently enough to ride. Snow can act like a thermal insulator preventing the lake from fully freezing to safe thickness. No matter what time of the season it is, please be cautious around frozen water sources such as lakes, creeks and rivers. If you are heading across a lake or river as a group be sure to stagger the snowmobiles, for if one has an issue with ice depth, the other riders will be aware, and be in a better position to offer assistance. Creek or river inlets and outlets to a lake generally have a thinner ice depth or open water, so please avoid riding over these terrain features.
Clear blue ice is usually strong ice.

White or opaque ice is weaker, often about half as strong as blue ice.

Grey ice and slushy ice should be avoided.
If you find yourself on thin ice, open water, or suspect the ice may be giving way, do not stop. Keep your momentum going and get to solid land...a stopped snowmobile will sink.
The Buddy System: Making sure you have a sled buddy watching out for you at all times is an extremely important point to discuss It truly doesn't matter the skill level of the rider, stuff can happen and your buddy is your safety plan. Take two minutes in the parking lot for a pre-trip meeting to pick your buddy for the day, ensure that you can communicate with them through radios, know what gear they have on them, communicate the trip plan and be sure to tell them that your expectation, as their ride buddy, is that you will be eyes on each other all day.
Exceeding skill set: While it's great to push personal boundaries while you continue to grow your sled skills, it's also important to note that it can be extremely dangerous for a rider and their crew if a rider is pushed beyond their skill set. It is a great idea to set and communicate reasonable expectations to the riding group before you leave the parking lot so that everyone in the groups knows what to expect. This way the group lead doesn't head directly to the gnarly drop down into zipper mouth creek and the group spends the rest of the day dealing with an injured rider or trying to tow out a broken sled. You are only as strong as your weakest rider.
The more you know, the safer you shall go!
---