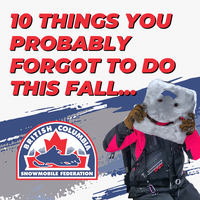 Ten Things You Probably Forgot To Do This Fall: Tips for A Safe & Successful Season
November is a month of anticipation for sledders and a great time of year to set yourself up for a successful season. Here's a list of ten tasks your may not have thought about tackling this fall.
Insurance and Registration: Check your policy and expiration dates for sleds, trucks, and trailers. Number plates or decals as well as VIN's must be visible on your sled in BC, so don't forget to cut a window in your sled wrap to avoid trailside hassle. Remember: BCSF members receive discounts on insurance through Capri and most providers will also apply discounts if you have taken an avalanche course.
Update your mapping software and Apps: Ensure you are working off the latest technology and features. Don't forget to download the Avalanche Canada App for easy access to the bulletin and mountain weather forecast on the road.
Book hotels NOW: Travel is back and winter hotspot destinations fill up quickly. Avoid disappointment by reserving your hotel rooms well in advance. Don't forget your annual club membership entitles your to significant discounts at many accommodations.

Wash your gear: For technical outwear fabrics like Gortex to function properly, the material pores need to be clean of grease, oil, and sweat. Follow your manufacturers recommendations for cleaning which typically advises to wash in lukewarm water with mild detergent. You can recharge the DWR coating on fabrics with a light heat dryer cycle. Avoid harsh chemicals or fabric softeners / dryer sheets which leave deposits that can block fabric membranes further reducing breathability and waterproofing.

Program your radios: Review the BC Forest Safety Council's recommendations for radio use on forest service roads. Channel maps can be found HERE. Frequency lists can be found HERE. Re-familiarize yourself with how to set and adjust your group's preferred personal recreation radios. Some channels provide extended battery life and others have longer range. Our friends at Backcountry Access have a great resource page HERE.
Protect your number one asset: Did you know that snowmobile helmets have an expiry date? Manufacturers recommend a lifespan of about 3-5 years. It's not a marketing scheme – the plastic, foam and other materials degrade over time. Lets face it, those helmets do a lot of rolling around in your truck and also suffer a lot of daily wear and tear. Read more HERE.

Check CO2 and Propane alarms in enclosed trailers: Test the batteries, check the height they are mounted at – it matters and could save your life!

Thoroughly inspect your companion rescue safety equipment: We don't just mean check the batteries folks. Pull out your transceiver, shovel, and probe. Have a good look for cracks, wear points, proper function. Most importantly, practice a rescue. Can you get to your gear easily? Does it all fit in your pack properly? Is it easy to assemble? Has any of your gear had a safety recall? Is it older than 3 years? Is it good quality equipment from a reputable avalanche rescue gear manufacturer? It might be time for an upgrade.

Winter tires and chains: Winter tires are mandatory on most BC routes from October 1 – March 31 each year. Approved tires carry either a M+S rating or mountain snowflake symbol and must have at least 3.5mm of tread.

Sled decks, hitches, and tie downs: Inspect your turnbuckles or other means of securing your sled deck to your truck bed. Have a good look at your trailer hitch locking mechanism. Invest in a good set of ratchet straps or Superclamps. While you're in there – check the wiring for your brake lights. Safety is no accident – arrive alive!
Now... start doing your snow dance!
---