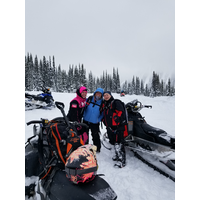 Navigating the COVID-19 Pandemic has been eye opening, especially for those who enjoy backcountry recreation. Initially, many thought that getting out for a good snowmobile ride during self-isolation would be a good thing, but it became painfully clear quickly that was not always the case. There was still risk of exposure to riders in parking lots, collection huts, and in our backcountry shelters. It also became apparent that in order to get to the hill we still had to purchase fuel at gas stations, travel through communities and interact with the public. According to BC's top Dr. self-isolation means staying home if we want to flatten the curve. Not only does staying home prevent the possibility of infecting you or others with the virus but it also ensures that snowmobilers are not adding any pressure to the medical system.
---
So what is it that we will miss the most? Sometimes it's the little things.
Disconnection from society
For many snowmobiling is our downtime and we use riding our snowmobiles to decompress after a stressful work week. That feeling of being unplugged from obligations and plugged into nature, in all its glory, really does feed our souls.
Camaraderie and friendship.
There really is something special about the bond formed with your riding crew. Your life is in their hands and theirs in yours. This creates a bond through a level of trust most will never experience in their life. It also leads to many coveted awards and ride titles like "bent rim", "creek diver", "where's Waldo" or "the fearless leader". Sled friends are best friends.
The secret world of winter wildlife
On your snowmobile you may get to enjoy some unique winter wildlife. We likely all have seen a ptarmigan along an alpine slope and have it pop under the snow. We often see rabbits, lynx, flying squirrels or pine martins that are always interested in the visitors to their backyard. Most mountains have a following of stellar jays or whiskey jacks that are sure to come check out what you have for lunch.
The sunshine
Many people don't know this, but snowmobilers often get more sunshine in the winter than other people. Even though the valley may be socked in with low cloud or dense fog, due to temperature inversions it is usually blue bird on the hill. This creates an opportunity for snowmobilers to get above the gloom and soak up some much needed vitamin D.
Snowmobiling absolutely does a body good!
Snowmobiling is excellent exercise for your body, helping to build muscles and especially core strength. Contrary to those who believe snowmobilers just sit and cruise around all day, snowmobiling is a wonderful way to keep your body healthy and strong. Here is a great write up from SnoRiders West Magazine. Snowmobiling is good for you
The excitement and challenge
The sport of snowmobiling can really boost your battery box. It's impossible to think of work, duties, bills and everyday stressors, when you're trying to nail down that re-entry, picking your line, digging yourself out or getting your sled on edge for the first time. That excitement you feel when nailing down a new move is ridiculously intoxicating and flat out exciting no matter what level of skill you possess.
Sled food
There is something special about the meals we eat on the mountain. Many hours go into planning our Muff Pot recipes and the smell of sweet and sour meatballs, chicken wings, potstickers and casseroles are common. Or we all know that Subway sandwich artist that really is an artist because they know how to keep the mayo from making your sandwich soggy and packs it perfect with the tomatoes on the outside. Fresh air, great views and a great meal, does it get any better than that?
After Sledding Bevy time
We will all miss our time spent after the ride enjoying a beverage together and replaying the day. It usually is filled with laughs, encouragement, exaggerations and sometimes includes a silly prize. We have seen hats, pins, and ribbons given out for the best stuck, the best dangle, or the "that guy award".
---
Sometimes snowmobiling is the only social interaction we have during our busy winter months filled with work, hockey practice, and dance lessons for the kids. It's ok to feel down that it ended early, in fact, it's healthy to acknowledge those emotions. It's ok to not feel ok, and it's ok to miss the world of snowmobiling. Thankfully the mountains are not going anywhere and next season it will be on like Donkey Kong.
---
Some suggestions to help get your snowmobile-fix during self-isolation
Movies
Several video producers offer streaming via iTunes and Google Play. The Boondockers crew and Team Thunderstruck are great examples.
Magazine articles
Check out the online version of our favorite magazines! SnoRiders West and Mountain Sledder Magazine have oodles of articles to enjoy. We have some pretty awesome articles on our BCSF page too!
Podcasts
Watch for online podcasts such as Living Large with John Ferrian, or Driven with Scott Spero. These guys interview other interesting people in the snowmobile industry and bring forth current events or issues the sport of snowmobiling face such as land access concerns. They're wildly entertaining and the passion they share for the sport is absolutely contagious.
YouTube
Check out the videos of other riders like you. Do a quick search of snowmobiling, mountain snowmobiling, or snowmobiling in BC. There are many little-known riders that have great videos showcasing mind blowing talent. How have these riders not been discovered? There are so many videos that is hard to get noticed. So if you find a good one give them a follow and a share to help them get to the top!
Education
If you're going to be confined to your home, how about feed your brain with online educational resources from Avalanche Canada? They offer a wide assortment of resources and online instruction to help keep your skills sharp and ready to roll.
---
Together, we will get through this Pandemic, and although this season may have ended early, next year promises even more greatness. It's important to keep in mind your local dealerships and clubs will be feeling the financial effects of COVID-19. When you are able to please be sure to spend your dollars locally where they count the most.
Your support will become more important than ever!
---