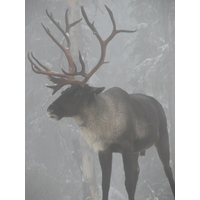 Yesterday the Valhalla Wilderness Society did a press release attacking snowmobiling! It blames the government for their inability to manage us as a user group for the failed Mountain Caribou Recovery Plan (MCRIP). In typical fashion this private interest group that is dedicated to turning BC into a park just pulled parts of reports that support their position and skipped the true story. From this attack we can only assume that their primary objective is to erase snowmobiling from the Backcountry of BC. You can read the full Press Release here:
BC GOVERNMENT CARIBOU MANAGERS REPORT DECLINING HERDS DISPLACED BY SNOWMOBILERS
The BC Snowmobile Federation has responded to this release here:
BCSF Response to press release by VWS
From these two documents CBC has created a one sided story that perpetuates the myth that there is any correlation between snowmobilers and caribou decline. They want headlines
If you want to read more about Governments efforts on the MCRIP please read:
http://www.env.gov.bc.ca/wld/speciesconservation/mc/​
This attack is just the latest in many. There are groups out there that do not want to share the backcountry. They believe that their form of recreation is better than others and therefore want the sandbox to themselves. They use issues like Caribou to help meet their objective.
If you want to fight for your right to use the backcountry please join your local BC Snowmobile Club and add your voice against these groups!
---
Some quick facts:
Snowmobilers have invested thousands of dollars and volunteer hours into saving the Mountain Caribou.

We have played by the rules even while we watch all other recreation and industry continue in this "critical habitat"

There are six objectives to the MCRIP that the science team deemed to be necessary for the program to successful. To date government has not been able to implement all six at the same time due to public pressure. The same people that want to save the caribou also are not willing to authorize government to do the targeted predator control recommended by the science team.

This has left recreational closures as an action that Government can use to show they are doing something.

Nothing Government has done to date has changed the rate of decline.

Mountain Caribou that live in parks are declining at the same rate or a little higher than caribou in the rest of the Province.

Government Ministries do not all buy in to the MCRIP as Forestry continues to harvest critical habitat and BC Parks will not due predator control in a Park.

You can ask any Biologist, any sledder, any person in Government why the caribou populations are declining and they will tell you it is due to predators.

Why is perceived disturbance by motorized recreation an issue for Government because they believe it could cause the caribou to cross a valley bottom where the predators are. Caribou are a species that migrate long distances as their needs change throughout a season. Crossing a valley bottom is something that should be expected from a species that used to migrate from the Quesnel Highlands all the way south to the US Border.

Add to this our riders are seeing an increase in the number of caribou moving from protected areas into snowmobile areas. These caribou are living in heavily snowmobiled areas by choice and it has become the elephant in the room as snowmobilers fear more closures.
---