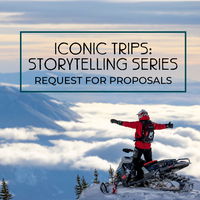 BC Snowmobile Federation / LetsRideBC
Request For Proposals
Iconic Trip Storytelling Series 2021
---
THE PROJECT:
LetsRideBC is a destination marketing organization with a mission to develop partnerships between snowmobile clubs, businesses, and communities that:
celebrate authentic local experiences,

sustainably grow BC snowmobile tourism,

bring snowmobilers deeper into the sport they love.
We believe recreation is too weak a word to describe what snowmobilers do: we live it. The soulful connections made between riders, the land, people, and local community are as valuable as the Super, Natural BC backdrop. As part of our mission to showcase BC riding destinations and local authentic experiences that stir the soul, LetsRideBC and our partner communities have created two featured Iconic Road Trips for 2021:
Rocky Mountain Trench: Rails, Trails, and Ales

Shuswap: Ride, Relax, and Revel
We are looking for a person or company to produce a video and photo story for each Iconic Trip itinerary to be featured on LetsRideBC and partner web and social channels.
OBJECTIVE:
Bring featured riding areas, BC history, and communities to life.

Deliver the right combination of travel information and inspiration.

Avoid stereotypical travel or action media cliches.

Build and elevate LetsRideBC brand.
PROJECT TIMELINE:
December 5, 2021: Closing date for proposals
December 10, 2021: Proponent selected
December 22, 2021: Planning completed
January - March 2022: Production
April 1, 2022: Content delivered

Please see attachment for full details.
SEND APPLICATIONS TO: nmatei@bcsf.org
CLOSING DATE: December 5th, 2021
---