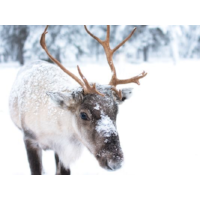 PRESS RELEASE
April 13, 2018
Snowmobilers saddened by the latest census data released for the South Selkirk Mountain Caribou Herd
Creston, BC, April 13, 2018:The British Columbia Snowmobile Federation (BCSF) is deeply saddened to learn that only three Mountain Caribou cows remain of the South Selkirk herd located near Creston BC. We understand that these three animals were captured, collared and have had blood samples taken to test for pregnancy then released back into the wild. The future is uncertain for these animals, and we hope that all efforts will be made to prevent their mortality and the continued decline of Mountain Caribou in British Columbia.
This development further supports the fact that science-based conservation is necessary for all conservation initiatives. When human emotion rather than science dictates the direction of conservation efforts, the long-term lack of effectiveness will always be the end result. Predator management is just one example of a conservation strategy that was severely delayed due to public outcry and celebrity involvement leaving the South Selkirk Mountain Caribou Herd vulnerable to predation for far too long.
Some special interest groups will cry for the securing of more land, stating that industry and recreation have led to the demise of the South Selkirk Herd. With 80% of historical habitat for this herd already protected from recreation and resource extraction it is clear that habitat is not the reason for the decline.
The reality of the situation is, unless we all work together, stop pointing fingers, looking for scapegoats and implement science based conservation, little will be left of our environment, and wildlife for future generations to experience.
We would like to extend our gratitude to our member clubs in the South Selkirk area. The Kokanee Country Snowmobile Club and the Nelson SnoGoers have worked hard to secure compliance in sensitive caribou closure areas for many years. The closures along the Kootenay Pass where this herd is located has experienced 100% snowmobile compliance this season according to the Conservation Officers Service. We would also like to extend our gratitude to the Creston and Ymir volunteers who provided snowmobile support to the Caribou Maternity pen project located at Darkwoods this Spring. Although the project was cancelled due to the large volumes of snow that fell impeding any hope of utilizing the pen, your efforts were appreciated by everyone involved.
We will continue to be partners with the Province to assist in conservation efforts and ensure that decisions be made based on science and in the best interest of the caribou herds. We will also continue to provide a voice for our sport to ensure that the British Columbia backcountry will be enjoyed for generations to come.
The British Columbia Snowmobile Federation (BCSF) is a non-profit organization that has been operating in BC for more than 53 years and currently represents 43,000 users and 60 member snowmobile clubs throughout the Province. As an organization we are dedicated to providing strong leadership and support to our member clubs to establish, maintain and protect quality opportunities for organized snowmobiling in British Columbia and to promote the safe and environmentally responsible use of those opportunities.
Contact:
Trish Drinkle
Media Relations
British Columbia Snowmobile Federation
Ph: 250-402-3179
Email: tdrinkle@bcsf.org
---