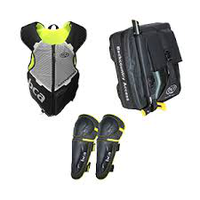 Now that the temperatures have dropped, nights are shorter and the leaves are turning, excitement for the upcoming snowmobile season grows. While it can be an excruciating transition period while we wait for snow, here are some great pre-season tips to not only help you cope, but also prepare for this 2019/2020 season.
Transceiver Check: Test your Avalanche Transceivers for functionality. A range test is incredibly important, for sometimes the internal components such as antennae can become damaged from wear and tear out in the backcountry. Make sure your batteries are fresh (Alkaline never Lithium), and the internal battery compartment is clean and clear without any signs of corrosion from leaking batteries. Check with your manufacturer for software updates if applicable.
Avalanche Air Bags: Now is the time to test your air bag to ensure it will deploy when you need it most. We recommend a pre-season blow off of each air bag to ensure it's integrity, which will also help you familiarize yourself with the muscle memory needed to deploy your airbag should you become involved in an incident
Shovel: Many Avalanche shovels have an aggressive blade to help cut through hard dense slabs of avalanche debris. Inspect your shovel for integrity and deburr any rough spots on your blade to prevent snags and damage to your backpack when you remove it and put the shovel back. Inspect tabs for damage and corrosion.
Storage Bags: You know that half eaten sandwich you forgot about in your tunnel bag? It's getting pretty ripe now. Inspect the zippers on your bags and repair any damage that could affect your bags integrity during the season.
First Aid/Survival Kit: Now is the time to prepare your backcountry first aid and survival kits, and replace items that need replenishing such as waterproof matches, fire-starters, space blankets, flashlights (replace batteries)
Helmet Goggles and Gear:Inspect your outerwear including clothing, Helmet and other vital gear to insure it's functionality. A good wash of NixWax tech wash goes a long way when it comes to re-waterproofing outerwear in preparation for the upcoming season.
Stay tuned for part 2 of Pre-Season Preparation
---