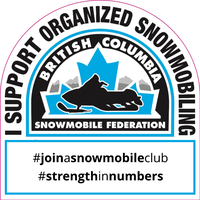 Who's awesome? WE ARE! Who is "we" you might ask? Well snowmobilers of course. Those of us who enjoy the beautiful British Columbia backcountry and support organized snowmobiling in BC by purchasing a membership and supporting our fantastic BCSF clubs.
We're gaining momentum! After our recent economic impact study many were stunned that the sport of snowmobiling in BC contributes to over 299 million dollars to the provincial economy. This is huge and the number is growing.
We need your help. You, yes, I'm looking at you! For each and every one of us has the ability to contribute to the preservation and protection of the sport of snowmobiling in BC.
How do we do that? By promoting membership purchases within your own club. This is important for several reasons.
Memberships fund vital club initiatives:
Trails: Your membership fund trail grooming development and maintenance.
Cabins: Cabin construction/maintenance/ repairs and insurance
Safety initiatives: Many of our member clubs provide cost share programs for AST training, Avalanche outreach by way of workshops transceiver search parks, signage and youth outreach programs.
Signage: Your membership provides the funding for signage within riding zones including sensitive boundaries, avalanche and hazard warnings, club messaging and safety messaging to facilitate a safe and enjoyable adventure for all.
Events: Fundraising events such as poker rallies, family fun days, and racing events take money to execute. These dollars come from the purchase of memberships. The more members you have, the more you can do to keep your club exciting and engaging.
Vital resources: The economic impact study was an initiative that saw funding from all of our hard-working member clubs. This documentation is foundational for now we have solid proof of our worth in today's provincial economy. Another vital resource recently funded through memberships dollars is a BCSF biologist. We've seen skewed and dismissive science in the past, and through membership funding we are now able to hire a biologist to help represent us with fair representation and conservation direction.
Your memberships do matter not only to your club, but to the sport of snowmobiling in BC. We are working hard to support our BCSF clubs and are here to provide extra marketing outreach and resources to help make the most of your membership numbers.
---