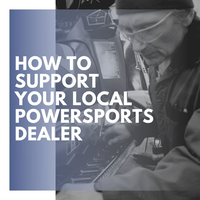 How To Support Your Local Powersports Dealer
Buying a new sled is a huge decision. Some say that one of the biggest factors is not the brand of the machine, but the reputation of the shop you will be dealing with. Developing a solid rapport with your dealer goes a long way when you are in a jam and just want to get back out on the snow. Not to mention, local sled shops provide employment to your community and are usually the first one snowmobile clubs lean on when it comes time for donations.
Here are some tips to help you maintain a solid connection and support your favorite Powersports store:
Choose local whenever possible. You may be able to find budget parts, accessories, and gear online but when you need your machine fixed or to complete an exchange or warranty, it will be much easier to deal locally in person. Don't forget, when you shop local you are making a personal investment right back into the quality of your own riding community.

Have patience when it comes to the duration of time to complete your repairs. The snowmobile industry has seen record-breaking sales in the past year and mechanics are working hard to help customers just like you get back on the snow as soon as they can.

Respect their time. The manager, parts desk, and mechanic would love to sit and talk shop but they have important work to do (see above). Invite them out for a post-work bevie instead.

Do not purchase parts online and expect your local mechanic to install them. As many of us have learned the hard way, discount online shopping can result in defective or mislabeled parts. Your initial joy of finding an ECU in 'excellent condition' at a bargain-basement price will be squashed when the part doesn't work and the seller is nowhere to be found.

Trying to process a warranty or rental sled claim? Be truthful about what happened.

Bring your machine in thawed and clean. Show the mechanic you respect not only his work but also his shop.

Represent your local dealership with pride! If they have hats or shirts, wear them to show your support.
Here is a great big THANK YOU to all of the hard-working dealerships and repair shops out there that play an important role behind the scenes and keep us on the snow during the winter months.
---