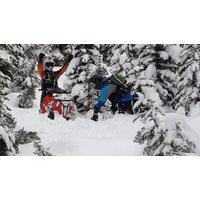 Getting stuck is simply a part of the sport of snowmobiling, especially if you're a newbie. Here are some tips to help prevent some stucks, or to help you get stuck smarter.
1. Step one, don't panic or let frustration get the better of you. Everyone gets stuck. Make sure you remove your helmet should you need to get yourself out of a predicament and avoid sweating profusely when unsticking your sled. You may have to layer down if it's a doozy. If you avoid allowing your body to overheat this will prevent your goggles from fogging up, along with keeping you safe and dry when you continue riding for the rest of the day. It's also a good idea to have an extra set of gloves or two as the gloves you use to unstick yourself may experience some wetness.
2. It's a good idea to have two shovels if you are riding in Avalanche Terrain. One shovel, in your backpack is dedicated for avalanche rescues, while the other can be your getting stuck shovel stored in your tunnel bag. This will prevent you from losing your avalanche shovel or components of it, which would be a very bad situation to be in should the need arise to use it in a rescue.
3. Radio communication is extremely valuable should you become stuck. You can let your crew know where you're at, and that you're stuck which will help to keep everyone safe. You can request assistance, or simply give them the peace of mind knowing that you've got the situation handled.
4. Don't stop facing uphill. This is a big one. When you stop on an incline, it is very difficult to get enough momentum to stay on top of the snow when you want to get back to riding. You'll end up digging your track down into the snow, and having an epic stuck.
5. When starting off after being at a complete standstill giver mustard. This means you'll need a little bit of momentum to ensure your sled stays on top of the snow, rather than digging a lovely trench creating an even bigger stuck. If you are stuck on flat ground expect some ribbing.
6. Listen to your snowmobile. If you're climbing, and you can hear and feel the momentum draining out of your climb, turn out. Should you try to continue going up, you'll most likely end up stuck, and it can be hazardous to expect help when you are stuck on a hill that has potential to slide. Only one person on the hill at a time is an excellent rule to abide by. You'll have to dig out, and turn your sled around on your own, which takes a lot of effort and time. It's simply easier to turn out, rather than setting yourself up for failure.
7. Tree wells could be one of the most cursed at feature in the backcountry when it comes to snowmobiling. Look where you want to go, rather than directly at the tree well for you'll find you have an internal tree magnet that will suck you right in. Tree wells can be used to your advantage, so don't fear them. As long as your track is on solid snow you can breeze right through them, and even utilize the wells to help you navigate thick tree riding. Keep your momentum up to carry you through the well's vicinity, for the slower you go the easier you'll tip over into the well. Not wide open throttle (WOT), just momentum.
8. Tethers are important for many reasons, but they also tie into the above point. Should you become stuck in a tree well and are physically unable to get your body out, exhaust fumes from your snowmobile could expose you to carbon monoxide poisoning should you be unable to shut your sled off. Your tether can simply be pulled, (if it already hadn't been engaged) and your sled will shut down giving you time to safely exit the tree well.
9. Get stuck smart. There comes a time when you simply know you're going to get stuck. Again, it doesn't matter how long you've been riding, everyone gets stuck. If you can try to get stuck with your sled on edge, which will create an easier out for you. You avoid the whole dig to China factor, and you can then use gravity to your advantage and simply roll your sled out. Remove some of the snow on the low side of your sled, creating an even better gravitational advantage. This is a great tip for women. Many think you automatically must bust the shovel out if you're stuck, but ladies you too can do this if you're creative. Many women use the power in their legs to push the sled into it's roll out position. Avoid rolling your sled in hard packed snow or you will crush your windshield. Powder stucks are when this technique is most appropriate.
10. If you find yourself in a tricky situation remember to breathe. Like Nemo's keep on swimming, if you keep on breathing it will give you a better chance of navigating technical situations and hopefully avoid a stuck. Oxygen is good for the brain, so breathe.
11. It doesn't have to be all about back breaking lifting and digging. Sometimes you can simply tunnel under the front of your snowmobile either using your arms, or your legs to remove some of the snow around your belly pan hanging you up. After doing so you may be able to pop out of your stuck providing you use a little mustard, (see point 5). If this isn't an option, a ski pull will usually do the trick. You can pull on the rider's ski while they give a little throttle mustard or you can utilize a stuck strap or Snow Bungee to gain more leverage in the pull. Do not stand in the direct line of the snowmobile, for you'll end up getting run over. Stand to the side if you're on ski pull duty.
12. If you are colossally stuck in a trench chances are your running boards are creating a suction factor. You'll have to not only remove snow from around your belly pan, but also remove the snow around your running boards to release the suction factor. If it's a situation where a ski pull isn't of help, you may have to recruit a couple buddies to lift the back end out of the trench.
13. If you're down in a hole, and there is no way you can heave ho the back end up onto stable snow you can build a runway or platform to help you get out of your hole. It may take time, and you'll only have one shot, so pack down that runway and platform as if your back depends upon it, then, you know the drill. Giver Mustard.
14. As always support the sport with your membership which will not only help fund club initiatives, but also will be a great place to meet like minded people who will help mentor your skill development, and will always be there for you should you need a helping ski pull.
For more information on the many BCSF clubs in British Columbia please visit www.bcsf.org/clubs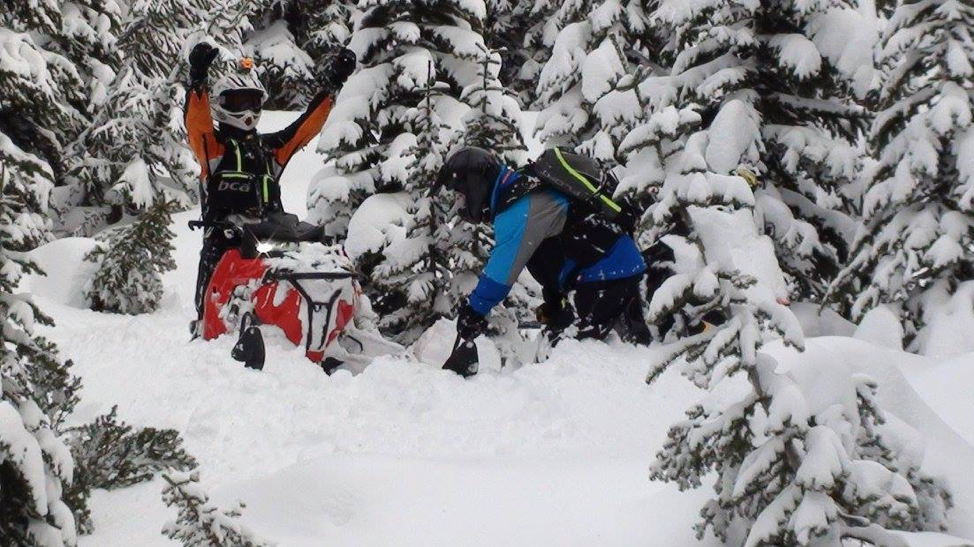 ---