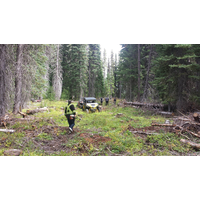 We've done some major improvements trail into 10-K. We had mini excavator moving logs to edge of trail and pulling out Alders, pole saws trimming tree branches and a stump grinder dealing with stumps in middle of trail. This should be huge improvement for early and late season riding as well as less chance of damage to groomers.
Huge thank-you to volunteers who put in alot of effort to make your sled'n days better... Jeff Champ, Darrell Hyland, Jeff Boylan, Stuart Zaylik, Megan Seibert, Jim Moir, Andrew Morrison, Dustin Young.
To see more pictures, and to like & share this story. Click here!
---