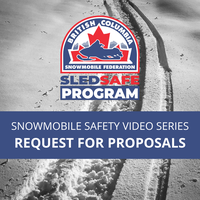 BC Snowmobile Federation
Request For Proposals
SledSafe Video Series 2021 (Video Content Production)
---
THE PROJECT:
SledSafe is the public safety and industry training arm of the British Columbia Snowmobile Federation.The BCSF was formed in 1965 as an organization dedicated to snowmobile safety, the growth of the sport, protection of the environment, and securing access to public lands for all.The Federation supports over 60 snowmobile clubs throughout the province. These predominantly volunteer organizations work diligently to provide winter trail grooming, warming shelters, signage, and public outreach education to maintain safe and rewarding snowmobile opportunities. We also train and administer a team of highly qualified instructors who deliver programs throughout British Columbia geared towards enhancing public safety.
This winter, SledSafe will be launching a program to generate digital media content in support of public safety outreach efforts. This library will grow over the years to a comprehensive reference database for use by instructors, clubs, and the public at large.
We are looking for a person or company to produce a cohesive series of informative videos about snowmobile safety to be featured on SledSafe and partner web and media channels.
OBJECTIVE:
Build and elevate the SledSafe brand.

Inform the public about organized snowmobiling in BC.

Raise awareness regarding the laws, regulations, and best practices for safe snowmobiling in BC.
PROJECT TIMELINE:
December 1, 2021: Closing date for proposals
December 15, 2021: Proponent selected
January 1, 2022: Planning completed
January - March 2022: Production
April 1, 2022: Content delivered
VIDEO TOPICS:
Snowmobiling With Children
Rules on ORV and Motor Vehicle Act; Promotion of preparedness and safe riding; Programs to improve compliance with specific trail use.
ORV Act as it relates to youth on snowmobiles

Carrying passengers safety

Motor Vehicle Act as it relates to helmets

What safety gear to carry and how to carry it

Staying warm, dressing appropriate, signs of hypothermia

Special considerations for traveling in / avoiding avalanche terrain, deep snow/tree wells with children
Join A Snowmobile Club
Promotion of local ORV club membership; Promotion of preparedness and safe riding.
What are snowmobile clubs

Benefits of joining a snowmobile club

Clubs as a resource when you ride

Never ride alone
Understanding Closures
Programs to improve compliance with specific trail use; Promotion of respecting the rules of the land, trails, and roads.
Motor Vehicle Prohibition Regulations and the Wildlife Act as they related to the various types of closures / restrictions.

What to do if you encounter wildlife on the trail

Importance of not riding through sensitive areas in low snow

Being a good Ambassador / Steward of the lands we ride on
Each topic requires a full length one-minute video as well as a cut down teaser version up to 30 seconds in length encouraging viewers to watch the full length video.
Please see the attached RFP for full details.
Please send completed applications to nmatei@bcsf.org no later than December 5, 2021
---