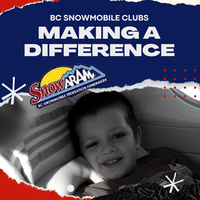 Since 1978, snowmobile clubs across the province have hosted Snowarama fundraising events to raise funds in support of the BC Lions Society for Children with Disabilities and Easter Seals services. Some events include family trail rides, poker runs, bingo rally's, drag races, scavenger hunts and snowmobile skills clinics.
Snowarama's fundraising dollars support two essential services that Easter Seals provides: Easter Seals House and Camps in British Columbia. Easter Seals House in Vancouver provides a low cost, caring place to stay for more than 100 parents and children every night. The camps offer once-in-a-lifetime, week-long camping experiences for approximately 800 children across the province.
The BC Snowmobile Federation and its member clubs have endorsed Easter Seals as its charity of choice and Snowarama as their official charitable fundraising event. In BC, snowmobile clubs in more than 35 communities host Snowaramas between January and March every year. Snowmobilers in B.C. have raised over $3.8 million for children with disabilities since the inception of Snowarama in B.C. in 1978. Despite the lack of snow in some highly-populated regions of the province, BC snowmobilers raise the highest Snowarama funds per capita in Canada.
The impacts of Snowarama fundraising is tangible through the many stories shared with us over the years. Here is just one example of how BC snowmobile clubs are making a difference in the lives of others...
Together We Can Make Fresh Tracks
For BC's Individuals with Diverse Abilities Easter Seals Services supported though Snowarama fundraising Events in BC
"Easter Seals House found me in one of my darkest hours. I am forever grateful for them taking us in, soothing our fears and saying it's going to be ok."
"My son, Clark, was in school when I received a call that he needed medical attention," says Clark's mother, Jean. That was almost five years ago when Clark was just five years old himself. "He had suffered a grand mal seizure and needed to be air lifted to Children's Hospital in Vancouver, from our community in Penticton." Once Clark regained consciousness and his medical tests were run, Jean was told they'd need to leave the hospital the next morning. "I was worried we wouldn't find somewhere nearby to stay, particularly as it was a Friday evening – and that's when I was first introduced to Easter Seals House and heard the great news that they had a room for us!" says Jean. "I can't tell you how relieved I was on that cold January day, that we had a warm place to sleep, prepare a meal and where a tired mum could take a shower, and all just a short walk from the hospital."

Jean and Clark have many special memories of Easter Seals House – including how excited Clark was when he saw the Batman statue out the front. He had no fear of going into a strange place because it was fun and colorful. He was pointing at the pictures of Canuck players on the doors too. Then of course being able to watch a movie in the room. Easter Seals is important because they are there at a time when families are scared and away from home. "For me, and my son Clark, it was like warm open arms there to provide us comfort at a time of uncertainty," says Jean. "Even though we only stayed for one night on that original visit, we were made to feel so welcome, and were assured "we will be here if you
need us again. You are not alone". "If I could sum up what Easter Seals House means to me in three words, it would be: Kindness, Empathy and
Understanding."
As it turned out, they did need Easter Seals House again and returned a few months later. "It is such a wonderful place and is set up with great amenities just like home," says Jean with a smile. "All these well thought out ideas are what brings relief to parents and puts smiles on kids faces." With 49 individual suites and located just minutes from hospitals, it is a lifeline for guests who arrive from all over BC and Yukon. Easter Seals House offers the private space families are looking for in between their treatments and appointments, and helps relieve them of the stress and financial burden of finding somewhere to stay in an expensive, and unfamiliar city. Suites include a kitchenette, two twin beds that combine to a King, full bathroom and WIFI. There is also onsite laundry and underground parking.

Jean says Easter Seals will always be a part of our lives. "It's so important to me, to ensure they stay around to support other families like mine, and that I give back for all they have done for us. I do as much as I can to help Easter Seals House give children and families their home-away-from-home." Thanks to events like Snowarama, the fundraising dollars will go towards supporting Easter Seals services in the province such as Easter Seals House, which provides a comfortable, safe and clean home away from home to families from across BC who have to travel to Vancouver to receive special medical care. Funds also go towards our 3 Easter Seals Camps throughout BC, where children and adults are able to have one of the best weeks of their year and interact with their peers that face many of the same challenges they do every day.
Snowarama is a family-oriented fundraising event in which snowmobilers organize hill climbs, poker runs, rallies, or scavenger hunts in support of Easter Seals Services. The BC Snowmobile Federation and its member clubs have partnered with Easter Seals as its charity of choice and Snowarama as their official charitable fundraising.
For more information on Snowarama, please visit snowaramabc.com
For more information on Easter Seals services in BC, please visit EasterSealsBCY.ca
---