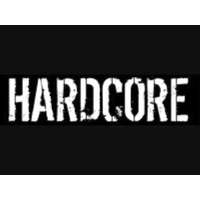 With a limited number of days to enjoy each year, many snow obsessed riders will go to extremes to gain as much seat time as humanly possible. Sometimes this means adjusting work schedules and family obligations to make time for snowmobiling, but others may take their commitment to snowmobiling a few steps further to what can be considered Hardcore!.
You might be a hardcore snowmobiler if...
You delayed a needed surgery.
Surgery isn't an inviting thought for many individuals, but this rings even more true for a sledder. Recovery time can really eat into deep powder snow days, so many will opt to postpone their procedure until after the snow has melted. Brandon "Tudizzle" Cox has this to share:
"When it comes to snowmobiling we are always dealing with a finite number of days to ride. This means pushing through injuries that would leave most resting on the couch. I would rather ride through the pain than watch from the sidelines. Is this the best choice for my overall health, probably not? But snowmobiling is a sickness and the only cure is time in the backcountry."
Many sledders will try to schedule surgeries for late spring so that they can recover over the few months of poor snowmobiling (what some people call summer).
---
You scheduled a pregnancy around a snowmobile season.
Would you consider planning a pregnancy around your snowmobile season? Believe it or not, some women snowmobilers love the sport so much they will literally work to schedule in a pregnancy that lends only a minute disruption to their riding time. While being pregnant in the heat of the summer is not ideal it does ensure that you will be back on your snowmobile in no time and in a few years your little one will be riding along on their own 120cc. Read more about snowmobiling while pregnant
---
Your snowmobile is worth more than your truck.
There is a common joke that snowmobilers won't think twice to drop tens of thousands of dollars on a snowmobile, yet the vehicles they drive are worth only a fraction of the value of their sled. But this is yet one more sacrifice that a rider will make to make the most of their backcountry snowmobiling adventure.
Do not try this. you will get a ticket!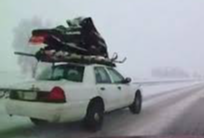 ---
You picked a career that has you off during the winter.
Some die hard riders will opt for a career that sees them working nonstop throughout late spring, summer and fall accumulating enough time and savings to take the winter off to snowmobile. There are many snowmobilers that are farmers or who are self employed to make this happen. Past President of the BC Snowmobile Federation, Richard Cronier, of Dawson Creek BC, agrees:
"I started out in this business because in the summer I can work my butt off, then when it's slower in the winter months....I can ride my butt off! It was working for a while!"
---
If you travel to South America to snowmobile in the summer.
Not wanting to see the snowmobile season end, some fortunate souls take a trip to the Chilean backcountry in the summer months to enjoy the flip season of snow in the Andes mountains. One of the most famous tour operators, Chris Burandt of Burandt's Backcountry Adventures, check it out and book a trip for next summer.
---
What makes you a hardcore snowmobiler? Send your ideas to office@bcsf.org for our second article in this series.
---