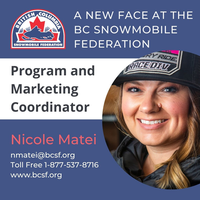 A NEW FACE AT THE BC SNOWMOBILE FEDERATION
Program and Marketing Coordinator
The BCSF is excited to welcome Nicole Matei to our team. As our new Program and Marketing Coordinator, Nicole is responsible for managing external communications and programs of the Federation including LetsRideBC, Member Services, Snowarama, the Excellence Awards, as well as our new Mapping and Safety Programs.
Nicole brings over 20 years of experience in outdoor tourism and recreation management. Before joining the BCSF, she has worked as a Paramedic, Sled Guide, Ski/Bike Patroller, and Mountain Safety Dispatcher. You may also recognize Nicole from her excellent work behind the scenes with the Fernie Snowmobile Association.
Besides being passionate about outdoor recreation administration, Nicole is an avid sledder and voice for the snowmobile industry. In her spare time, she generates engaging content for various media outlets and provides snowmobile avalanche safety training in Fernie, BC.
Reach out to Nicole for membership services, sponsorship opportunities, marketing, and BCSF program support!
Nicole Matei
nmatei@bcsf.org
Toll Free 1-877-537-8716
www.bcsf.org
---