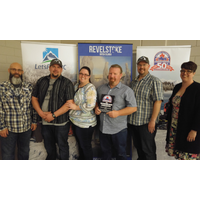 This year, we were blown away at the overwhelming support and recognition of the people and organizations who work tirelessly to better the sport of snowmobiling in BC. There were a total of 77 nominations for 57 different nominees. The largest number of submissions in BCSF history! The BCSF Excellence Awards are a way to recognize people, businesses and organizations whom have made significant contributions and shown exceptional support for organized snowmobiling in BC. It is always an honor to be a part of the Awards and the following winners deserve every bit of recognition we can give them. Congratulations to all the nominees as well, we appreciate everything you do!
We started of the ceremony with the Excellence Award for Outstanding Snowmobile Dealership and the winner was Full Throttle Motorsports in Quesnel. Owner Brad Dunn is a Director for the Wells Snowmobile Club, and goes above and beyond to support his Club and its members. Full Throttle supports every Club event, through donating time, prizes, use of sleds, and sponsorship. Brad not only sells sleds, but he ensures club membership and encourages safety gear and training. He takes his own personal time to take customers to the mountains to help build confidence, to learn about the machines, and to show them around. He also offers after hours support and service. These are just a few of the amazing things that Brad contributes to the sport, his club and his community. His customers are like family to him, and some have been loyal customers of Full Throttle for 15+ years because of Brads dedication to customer satisfaction and commitment to being the best. Congratulations Brad Dunn and your team at Full Throttle Motorsports!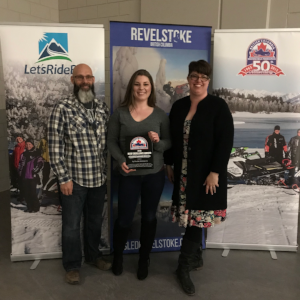 Meghan Bosecker accepts on behalf of Full Throttle Motorsports
Next up was the Award for Outstanding Organized Snowmobile Related Company, and the winner was Outside Ventures from Prince George. Owner Dave Merritt offers both Avalanche Skills Training and Snowmobile Safe Operators courses. Outside Verntures is an amazing asset to the north. Dave is the first person called whenever the snowmobile club needs training or awareness and always shuffles his schedule around to accommodate almost any group wanting to learn. Dave works full time and yet still finds time to teach awareness in northern BC almost every weekend and often during the week. Dave is a person who helps. He is a search and rescue member and team manager, and his reason for doing all this is because he wants to see the sport grow and become even safer with everyone having knowledge of the backcountry. Congratulations Dave Merritt on the continued success of Outside Ventures!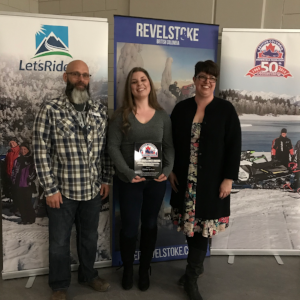 Meghan Bosecker accepts on behalf of Outside Ventures
The Award for Outstanding Promotion and Development of Snowmobiling went to another dedicated sledder from Northern BC, President of the PG Snowmobile Club, Meghan Bosecker! She is hands down, the youngest Club President within the Federation of Clubs, and one of the half-dozen female club Presidents in the province as well. Meghan has put on numerous events for the Club this year and dedicated countless hours of her own time into these events. The Backcountry Avalanche Workshop she organized had over 90 people in attendance, the venue was filled to the max and although they weren't prepared for such a large turn-out, they made due to ensure that everyone stuck around. She is completely dedicated to the sport and will do whatever she can to make sure that other people who enjoy the sport have a great time with it as well and know all they need about it. Congratulations Meghan Bosecker, here's to three more years of success as President of your Club!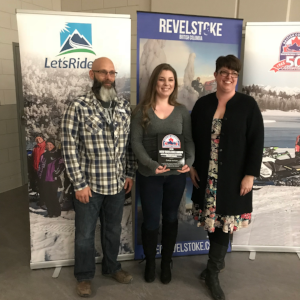 Meghan Bosecker accepts the award for Outstanding Promotion & Development
Next up was the Outstanding Snowmobile Tourism Promotion and Development Award, and the winners were the Valemount & Area Recreational Development Association (VARDA). VARDA does an incredible job promoting not only snowmobile tourism, but safe snowmobiling, sustainable development of winterized recreation (and year-round rec), and community growth. VARDA attends all three of the Western Canadian Snow Shows, and actively promotes their riding areas year round on Social Media as well. Club members and non-members have access to regular and consistent avalanche and snow condition information, as well as info on ethical riding, wildlife sensitivities, safety and backcountry stewardship. Congratulations VARDA!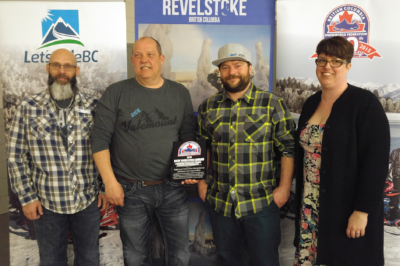 Terry Power and Curtis Pawliuk accept the award for Outstanding Tourism Promotion & Development for VARDA
The winner of the Excellence Award for Outstanding Snowmobile Family were the Evans Family from Kelowna. Justin, Kyra, Brooklyn & Paisley were all in attendance for the awards, and in true volunteerism fashion, the girls even helped BCSF Secretary, Pamela Cole run the door prize draw! Justin is a member of Hunter's Range Snowmobile Association (HRSA) in Enderby and is an active volunteer for both HRSA and the Kelowna Snowmobile Club. Justin and his family attend all club meetings, work party's and events to support their Club's. They even help organize gathering donations and executing the planning of Club events and fundraisers. Most recently helping to organize a fundraiser for Search and Rescue! Congratulations Evans Family, it's families like yours that are the backbone of our Clubs, going above and beyond to support our sport!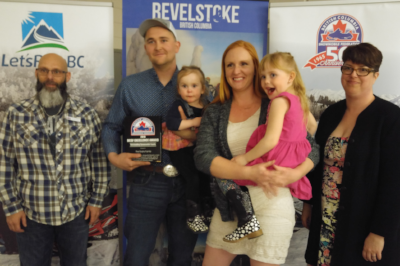 Justin Evans, Kyra Casorso & daughters Paisley & Brooklyn accept the award for Outstanding Snowmobile Family
Maryclaire Snowball of the Williams Lake Powder Kings won the Award for Outstanding Youth Contribution. Maryclaire has been nominated for this Award in previous years, and is a most deserving young lady, so we were pleased to see her take it home! Maryclaire's parents Mark and Laurie are the President and Membership Administrator for the Powder Kings, that along with Maryclaire's older brother Nathan being hugely involved in snowmobiling, it is no wonder that this amazing young woman is following in their footsteps and is the Club's Youth Director. She is an active participant in all Club activities, including meetings, work bee's, their local snow show, membership drives, club rides, fun days and more! She encourages youth in her community to get involved in the sport, and not just the snowmobiling but that volunteering for non-profit organization like the Powder Kings is also enjoyable and rewarding. Congratulations Maryclaire! The world needs more youth like you, and your Club and Community are lucky to have you!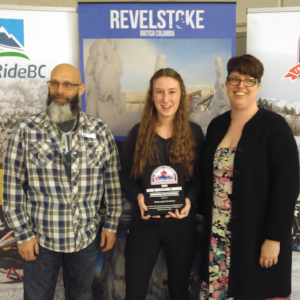 Maryclaire Snowball accepts the award for Outstanding Youth Contribution
The winners of Outstanding Snowmobile Club were the Windermere Valley Snowmobile Society. This Club went from being down and out to achieving many amazing accomplishments in just the last year. A new board of directors committed their efforts towards revitalizing the Club, a new logo, a new groomer, a record breaking membership drive, installation of a new beacon park, new events and fundraisers, new solutions with Rec, Sites and Trails, first-time attendance to BCSF meetings and events and increased promotion of safety. These are just a small example of the exemplary efforts made by the new WVSS, a small club with a big heart and an even bigger vision. Congrats Windermere Valley Snowmobile Society!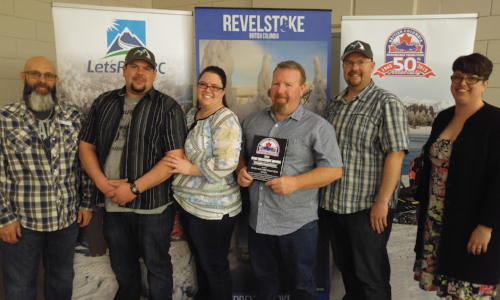 Rob & Melody Chemelli, Garry Prosser & Rob McSheffery from the Windermere Valley Snowmobile Society accept the award for Outstanding Snowmobile Club
Our next Awards category was for Groomer of the Year, and it was obvious from the 18 nominations for 13 outstanding groomer operators that these individuals all deserve recognition for their hard work and dedication to maintaining grooming programs in their communities! But unfortunately there can only be one winner, and this year's award went to Steven Miller of the Prince George Snowmobile Club! Steven is quite the ambitious and dedicated volunteer, often at a personal cost, but never quitting until the job is done and the Club's needs are met. This winter he saved the Club's Family Day event, single handed! Upon arriving to groom for the day's event at 3 am and finding the groomer dead, Steven headed back, got in his personal pick-up truck and drove several kilometers to get to the groomer and give it a boost! Then he towed his pick-up down, groomed the trail, hauled in the event supplies, and even stayed to help with clean-up and hauling everything out. It made for one long exhausting day for Steven, but ensured that the Club's Family Day was a huge success. Congratulations Steven, your commitment to your Club and your sport is exemplary!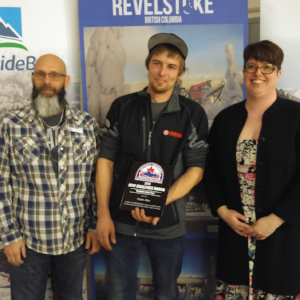 Steven Miller accepts the award for Groomer of the Year
Our next award was for an individual who has shown an extraordinary level of dedication to improving the sport of snowmobiling in BC and who exemplifies the high standards and selflessness that Pat Whiteway maintained during his lifetime. Pat Whiteway (1944-2007) was a long-time volunteer and iconic ambassador for snowmobiling in BC. Pat was an oval racing champion, Kelowna Snowmobile Club President, BCSF Associate Director, BCSF Recreation Division President, BCSF Executive Director, many more positions for the Canadian Council of Snowmobile Organizations, including president, and the International Snowmobile Congress. The award is considered the highest honour available to a BC snowmobiler. The winner of the Pat Whiteway Award for Outstanding Snowmobiler went to Curtis Pawliuk of the Valemount & Area Recreational Development Association (VARDA)! Curtis is a leader who not only walks the walk, but lives and breathes snowmobiling. He is Manager of VARDA (it's estimated that he donates just as much time as he's paid for), has his own snowmobile safety company (Frozen Pirate), and is a Director at Avalanche Canada. He is also chair of sled com which is a snowmobile specific avalanche safety steering committee. There are far too many things to list here, as Curtis is truly involved in every aspect of snowmobiling in not only Valemount, but across the province. He is a true ambassador of the sport, and a very deserving winner of this award. Congratulations Curtis!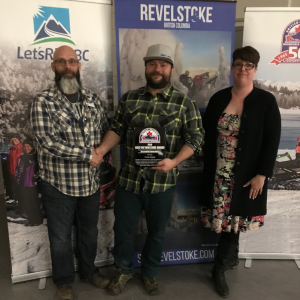 Curtis Pawliuk accepts the Pat Whiteway award for Outstanding Snowmobiler
We wrap up the Awards with a very special presentation from the BCSF President, Richard Cronier. Each year, an individual is hand-picked by the current President to be the recipient of the BCSF President's Award. This award is to recognize an individual who's shown outstanding leadership and contributions to organized snowmobiling within their Club, their community and the Province of British Columbia. This year, the honour went to Len Woodd of the Kamloops Snowmobile Association. Len owns and operations a machining company (Acumen Machine Ltd.), and has donated endless time, money and energy to the KSA. Lenny's passion for riding is only exceeded by his passion for good times while riding various areas across BC. Lenny understands that in order to create those good times, a volunteer usually has made it happen. That volunteer for the KSA is often Lenny who has stepped up with groomer repairs, manufacturing of various items for the Club, and many personal donations of time and money given to support the club. Lenny has personally invested his own money and time to attend Provincial snowmobile meetings, and further the Federation. Len is beyond a doubt an invaluable member of the provincial snowmobiling family and we are honoured to have him by our sides. Congratulations Len, you truly deserve it and thank-you for everything you do!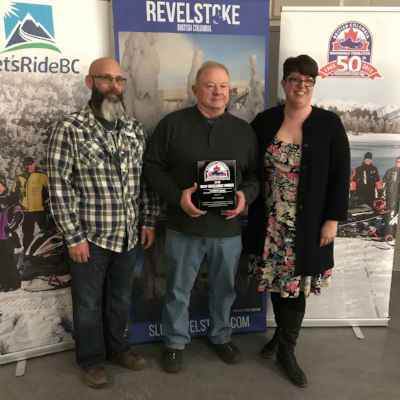 Len Woodd of the Kamloops Snowmobile Association accepts the BCSF Presidents Award
The evening continued on with more visiting with great people from across the province, congratulations were shared, and the good conversations carried on amongst old friends and new. If you have never attended the BCSF AGM, Excellence Awards & Gala, I highly recommend coming next year.
As always, you can keep up to date on BCSF News and Events here on our website bcsf.org, our electronic newsletters and of course our social media pages. Thank you again to each and every one of you who took the time to nominate, and we look forward to seeing another outpouring of recognition and appreciation in the 2018-2019 season!
---